Attachee (NOA)
What is a NOA
A Notice of Attachment (NOA) is issued when the payor is behind on their support payments. Sometimes called a garnishment, the attachment requires anyone who owes the payor money to pay all or a portion of the money to BCFMA for the recipient.
We can attach income from one or more sources, including:
wages, salaries and/or commissions
pensions and workers' compensation benefits
long- or short-term disability payments
rental income
bank accounts
ICBC claims
The Notice of Attachment can remain in place for 5 years and will be renewed if the payor is still behind on their support payments.
What are an Attachee's obligations
An Attachee must:
Respond within 10 days by completing:

Response by Attachee form, and
Wage Information form, if the payor is an employee.

Calculate and deduct payments from money owing to the payor.
Send payments to BCFMA within 5 days after deduction.
Contact BCFMA to let us know if payments will stop.
An Attachee should not:
Dismiss, discipline, or discriminate against the payor because of the NOA. It's against the law.
Take instructions from the payor. Only the BCFMA can change or cancel the obligations under the NOA.
Need to send a Notice of Attachment payment?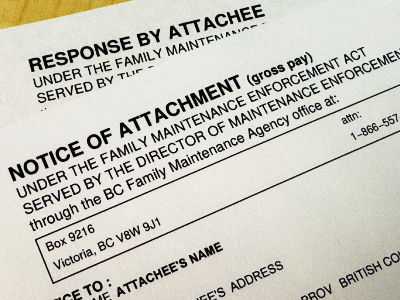 There are two options for sending payments:
Mail cheques, or
Send payments using online banking.
Go to Sending NOA Payments to find out more.